Over 100 years of history, recently restored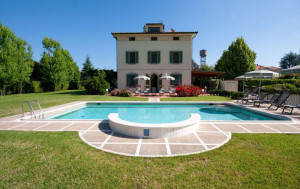 Villa Colombai is a Tuscan villa with over 100 years of history within its walls. Originally built as a holiday home for his family at the turn of the century by a well-known psychiatrist from Lucca, Professor Andrea Cristiani (1862-1948), later Director until 1936 of the Sanatorium at Maggiano (Lucca) and father of the early twentieth century painter Giuseppina Cristiani.
After the loss of his two daughters in the early twenties, Professor Andrea Cristiani decided to put the villa to good use and offer it to the local community and in 1928 it became the primary school for infants of the village for more than thirty years.
After the building of a new school in 1958 the Villa went back to its original use, a country residence, but is still known by the locals as "Le Scuole Vecchie", "The Old School".
The building underwent major changes from 1989 to 1994 and again in 2007 with the addition of its very unusual swimming pool.
The Barghini family who purchased the Villa in 2004, after restoring the Villa to its original charm in 2008, decided to turn the Villa into a hotel, initially calling it "Colombai Country Villa" and then "Villa Colombai". The title comes from "Colombai Court", name given to the earliest houses built in Orentano and which surround Villa Colombai.
The 360 square metre Villa has been carefully restored in the most elegant and tasteful way overlooking nothing, even the smallest details. In the midst of frescoes and Tuscan terracotta floors, three fireplaces, warm pastel colours and natural beams you'll find air comfort and heat control and windows that do not let mosquitos in. A large parking area is available within the grounds of the Villa.
Villa Colombai is the ideal starting point for visiting Tuscany's main attractions, a stone's throw from Lucca, Pisa and Florence. Alternatively guests can spend time relaxing in the luxurious swimming pool with a water massage whirlpool, strolling and sitting in the large garden or on the charming veranda with barbecue and firewood oven facilities near the kitchen. The grounds of the Villa provide a special area for toddlers and young children to play in. And for older children? A small football pitch (ideal for five-a-side or mini soccer), table tennis and table football (known as foosball and futsal in the US).